Borwick & Sons
On 10 February 1900, the partnership formed in 1890 of Nathaniel Shepherd and Isaac Borwick was amicably dissolved.
Isaac Borwick began a new business with his sons: John as draughtsman and master yacht builder, George dealing with administration and Arthur in the engineering department. The location remained at Cockshott, Bowness-on-Windermere.
The association with aircraft began in early 1910 with the floats and aircraft of Oscar Gnosspelius, and included propellers, maintenance and repair. In 1918, Borwick's were subcontracted by Dick, Kerr & Co. of Preston to construct Felixstowe F.3 flying boat hulls.
Their work included making Waterbird's floats; Arthur Borwick was present for Waterbird's first flight on 25 November 1911.
Whilst new opportunities were presented to Borwick's, they were not without personal risk! In September 1912, Arthur Borwick lost the tops of 2 fingers which came into contact with a propeller (which ironically he had made) when turning it to start Waterhen's engine.  George Borwick was turning a propeller when the engine roared into life and the propeller did 'quick and irreparable damage to his traditional summer straw hat'.
They became Borwick's (Windermere) Limited and their premises were demolished during 1973-75 upon being taken over by Windermere Aquatic Limited.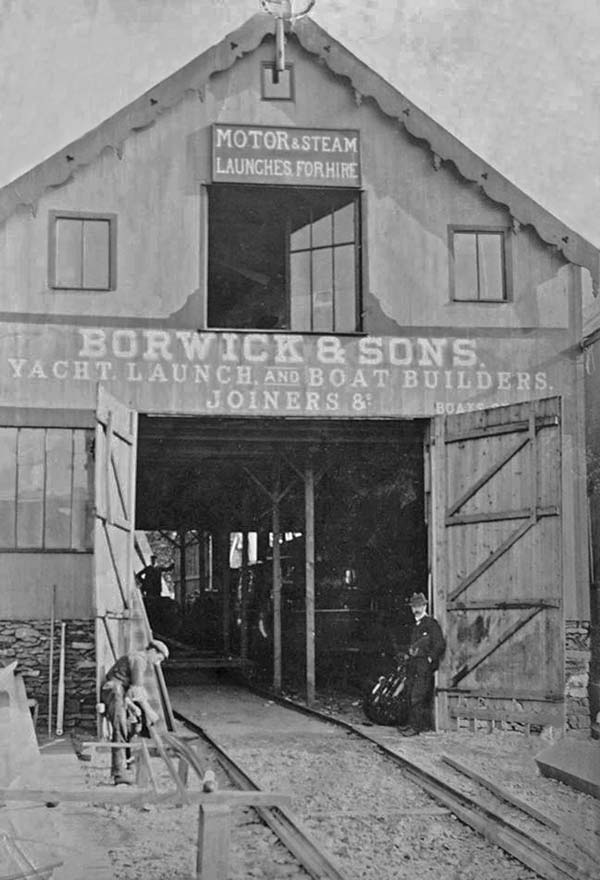 Windermere: birthplace of British naval and civil marine aeroplanes