For a map depicting the location of the Hotel, please click here
From left to right in the above photo:-
Joseph Ridgway from Rio de Janeiro, 23, arrived in March 1915, awarded his Aviator's Certificate on 17 March 1916, joined the Royal Flying Corps, and was severely injured on 24 March 1917 whilst on a photographic reconnaissance flight in France.
David Robertson from Pollokshields, Glasgow, 22, arrived in October 1915, awarded his Aviator's Certificate on 12 February 1916, appointed an instructor, left in June 1916 and was posted to France where he took off and was never seen again.

Cyril Barber from Plymouth, 20, came in May 1915, and served in the RFC and Royal Air Force.
Ronald Buck from Heaton Moor, Stockport, 25, made his first flight in January 1915, awarded his Aviator's Certificate on 7 August 1915, joined the RFC, and was seriously wounded in France on 20 October 1916 such as to be graded 'permanently unfit for pilot duties'.
Harry Robinson from Halifax, 21, was part of the May 1915 intake, and achieved his Aviator's Certificate on 2 April 1916.
Arthur Salton from Norham, Berwick-on-Tweed, 21, achieved his Aviator's Certificate on 6 April 1916.
The first British Seaplane School was created at Windermere by The Lakes Flying Company which was established in 1911. The School was taken over on behalf of the Government, and in May 1916 training operations at Cockshott and Hill of Oaks became Royal Naval Air Service Unit Hill of Oaks. Large numbers of probationary Sub-Lieutenants were sent to Windermere for basic instruction. In June 1916, the headquarters of the RNAS at Windermere moved from Cockshott Point to Hill of Oaks, and, with the departure of civilian instructors, the name was changed to RNAS Windermere. RNAS Windermere closed down at the end of June 1917.
Mrs Hartley charged pilots at a reduced rate of 30 shillings (£1.50) per week for accommodation and food at the Beech Hill Hotel.
'On 13 April 1912, Oscar Gnosspelius made a fine flight. Starting from Cockshott Point, the machine flew down the lake to Lakeside, then up to the Beech Hill Hotel, back again to Lakeside, and then back to Cockshott Point.' – Flight magazine, 20 April 1912.
Donald Macaskie used Beech Hill and Storrs Point as waypoints for his flying training in August and September 1915. His instructor was John Lankester Parker, who taught about 75 to fly without accident at Windermere. He later became the test pilot for Short Brothers, and in 1942 flew the first Windermere-assembled Sunderland flying boat.
'The Beech Hill Hotel can comfortably trace its origins back to the 1900s': Hotel website.
The extension of the Hotel may be appreciated from the air: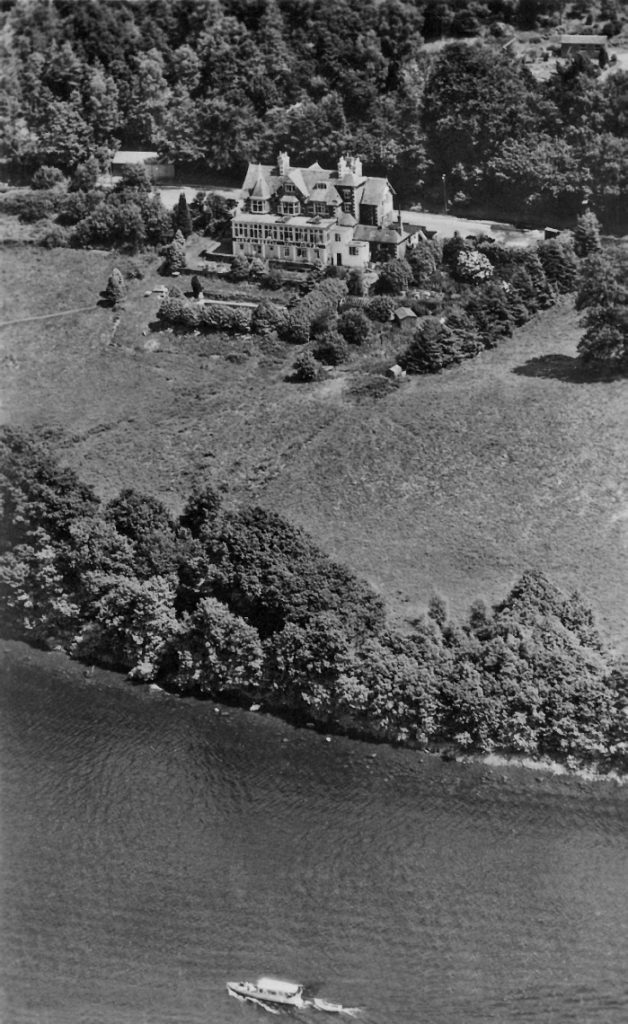 Windermere
Birthplace of British naval and civil marine aeroplanes