Captain Arthur William Wakefield
MD BCh MRCS MRCP (1876 – 1949)
Dr. Arthur Wakefield was the brother of Captain Edward Wakefield who commissioned Waterbird.
Wakefield served as a surgeon throughout World War One. He was medical officer on the 1922 Mount Everest expedition. At the first Winter Olympics in 1924 the Everest team were each awarded a gold medal, with the citation 'the greatest feat of alpinism in the preceding four years'. In 2012, Wakefield's medal was taken to the summit of Everest by Kenton Cool.
Wakefield was President of the Fell & Rock Climbing Club when on 8 June 1924, at Great Gable, the dedication took place of a bronze memorial plaque inscribed with the names of the 20 members killed in World War One; the very day that George Mallory and Sandy Irvine disappeared on Everest. – Into the Silence: The Great War, Mallory and the Conquest of Everest by Wade Davis. Wakefield's obituary described him as one of the Club's most oustanding, best loved and greatly distinguished members.
Amongst the names is that of 'S. W. Herford'. Siegfried Herford carried out aeronautical research at the Royal Aircraft Factory, Farnborough in 1913-1914.
W. G. Collingwood designed the plaque, who was the father-in-law of Oscar Gnosspelius a pioneer engineer, designer and aviator at Windermere 1909-1914. The plaque graced the summit until 2013, when it was replaced with a new one and moved to the Church of St. Olaf, Wasdale Head, where it was re-dedicated on 21 July 2019.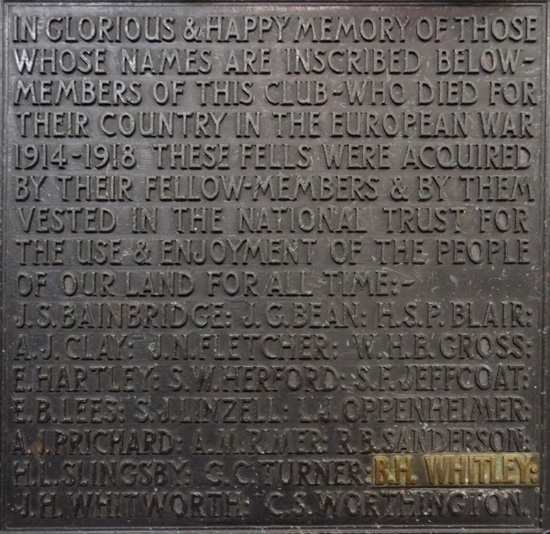 Windermere
Birthplace of British naval and civil marine aeroplanes