Captain Arthur William Wakefield, 

MA, MD, BCh, MRCS, MRCP
(1876 – 1949)
Dr. Arthur Wakefield (known as Waker) was the youngest brother of Captain Edward Wakefield who commissioned Waterbird. Wakefield served in the Newfoundland Regiment and then the Royal Army Medical Corps as a surgeon throughout World War 1, including at the Somme from the last days of 1915 to 12 October 1916, and was Mentioned in Despatches in 1917. He acted as medical officer and was a climber on the 1922 Mount Everest expedition. He was President of the Fell & Rock Climbing Club 1923-25 and the Club's first life member.
MOUNT EVEREST
Having reached the North Col of Everest at 23,000 feet, Wakefield wrote in his diary that he planned an ascent on 28 May 1922. However, not only had all the fuel been used up in the camp and there was hardly any food available, but also he overdosed his colleague with morphine, so they had to descend.
At the first Winter Olympics in 1924 the Everest team were each awarded a gold medal, with the citation 'the greatest feat of alpinism in the preceding four years'. In 2012, Wakefield's medal was taken to the summit of Everest by Kenton Cool.
THE FELL & ROCK CLIMBING CLUB OF THE ENGLISH LAKE DISTRICT
As President of the Fell & Rock Climbing Club ('FRCC'), Wakefield handed over the title deeds of land totalling 1,184 acres, which had been purchased by the Club's members, to the National Trust. The presentation took place during the FRCC's annual dinner at the Sun Hotel Coniston on 13 October 1923. The land is above 450 metres in groups north and south of Styhead Pass. The more southerly group is comprised of Lingmell, Broad Crag, Great End, Seathwaite Fell, Allen Crags and Glaramara. The northern group contains Kirk Fell, Great Gable, Green Gable, Brandreth, Grey Notts and Base Brown.
'At that time it was thought the gift covered about three thousand acres, but in 1944 when the National Trust bought Seathwaite Farm the curious fact emerged that apparently some of the land believed to be freehold was actually part of Borrowdale Common. … legally the freehold given by the Club now appears to consist of 1184 acres instead of 3000.' – The Lake District and The National Trust by B Thompson. The 1,184 acres is confirmed by the National Trust Land Map.
Wakefield said "These title deeds represent the lives of those of our members who died for their country, men with whom in many cases we have walked over these fells, and whose friendship we treasured".
The representative of the National Trust was Sir Francis Acland MP, who expressed the hope that the land might be the nucleus of a national reserve, embracing a large proportion of the Lake District. – The Lake District National Park was formed in 1951. He was a  member of the National Trust, which felt that the whole country owed a debt of gratitude and offered its sincere congratulations on the grandeur of the memorial.
MEMORIAL PLAQUE AT GREAT GABLE
On 8 June 1924, Wakefield spoke during the dedication of a bronze memorial plaque at Great Gable; the very day that George Mallory and Sandy Irvine disappeared on Everest.
'About five hundred persons drew closer together as the President stood on the rock-platform next to the draped [war-stained Union Jack which flew from HMS Barham at the battle of Jutland]. Arthur Wakefield spoke slowly, under stress of the emotion everyone was feeling, of the climbers who had paid the last Great Sacrifice. He spoke of the love of freedom which had impelled them to dedicate strenuous hours to the joy of these hills, and to their love for their own land, which made its defence from incursion and domination a high and solemn duty. In a few words he described the great mountain park which lay in the mist and silence below and around, and which for memory, had been presented to the nation, a possession for ever.'  – William Palmer.
The plaque was inscribed with the names of the 20 members of the FRCC killed in World War 1. It was a source of joy and pride to Wakefield that his Presidency coincided with the dedication. The obituary in the FRCC's Journal described him as one of the 'most outstanding, best loved and greatly distinguished members'. – Ashley Abraham.
Amongst the names on the plaque is that of 'S. W. Herford'. Private Siegfried Wedgwood Herford was killed near Bethune and commemorated by a window at Eskdale Green (formerly at Fallowfield 1919-1976). Herford was awarded a research scholarship for an MSc on engine design at the Royal Aircraft Factory, Farnborough in 1913-1914. Wording common to his gravestone at Festubert and memorial window is: I will lift up mine eyes unto the hills from whence cometh my help.
W G Collingwood designed the plaque, who was a member of the FRCC and father-in-law of Oscar Gnosspelius a pioneer engineer, designer and aviator at Windermere 1909-1914. Hilda Gnosspelius, sister of Oscar, was married to Henry Slingsby who is listed on the plaque. Collingwood estimated the cost of the design work at £20, with a further £10 for his daughter Barbara to model the relief map in plasticine.
The plaque graced the summit until 2013, when it was replaced with a new one and moved to the Church of St. Olaf, Wasdale Head, where it was re-dedicated on 21 July 2019.
– On 18 March 1916, John Lankester Parker and Henry Reid flew to Coniston Water, secured the Blackburn seaplane to the steamer pier and walked to the Sun Hotel for lunch. This photo was taken upon their return to Windermere.
Of those named on the plaque in relation to the Somme:-
Captain James Scott Bainbridge, Mentioned in Despatches, was killed at Saint-Quentin and commemorated at Pozières 
Second Lieutenant William Henry Bright Gross was killed at the battle and commemorated at Thiepval
Second Lieutenant Edmund Hartley was wounded in the battle, having been wounded for a third time part of his convalescence was at Broad Leys, Windermere, killed and buried at Mont-Bernanchon and commemorated by a plaque at Fence-in-Pendle
Major Eric Brown Lees was killed near Albert, buried at Harponville and commemorated by a window at Tunstall
Private Arthur Mitchell Rimer was wounded at Pozières, died at Brighton and was buried at Stoke D'Abernon
Captain Henry Laurence Slingsby, Military Cross and Mentioned in Despatches, was present at the battle, killed at Mitry and buried at Adinkerke
Captain George Corrall Turner was killed at the battle and buried at Favreuil
Second Lieutenant Benjamin Heywood Whitley was killed at the battle and buried at Montauban.
Also on the plaque:-
Lance Corporal John Gordon Bean was killed near Ypres and commemorated at the Menin Gate Memorial
Second Lieutenant Herbert Samuel Penny Blair was wounded at Salonika and buried at Pieta, Malta
Major Arthur Joseph Clay was buried at Newborough and commemorated by a plaque at Harpenden
Corporal James Neville Fletcher was wounded at Ypres and buried at Gosforth
Second Lieutenant Stanley Ferns Jeffcoat, Mentioned in Despatches, was wounded near Oppy Wood, buried at Roclincourt and commemorated at Great Longstone
Captain Stanley James Linzell, Military Cross and Croix de Guerre, was killed near St Quentin and buried at Foreste
Lieutenant Lehmann James Oppenheimer was buried at Bologne
Private Arthur Illtyd Prichard was commemorated at Arras and Broadway
Private Arthur Mitchell Rimer was wounded at Pozières, died at Brighton and buried at Stoke D'Abernon
Lieutenant Roy Broughton Sanderson, was buried at Haringhe
Major John Haworth Whitworth, Distinguished Service Order, Military Cross and Mentioned in Despatches, was buried at St Sever
Lieutenant Colonel Claude Swanwick Worthington, Distinguished Service Order and Bar, Military Cross and Mentioned in Despatches three times, was wounded near Cambrai and buried at Mont Huon.
 – Their name liveth for evermore.
 – Forgetting those things which are behind and reaching forth unto those things which are before. Press towards the mark.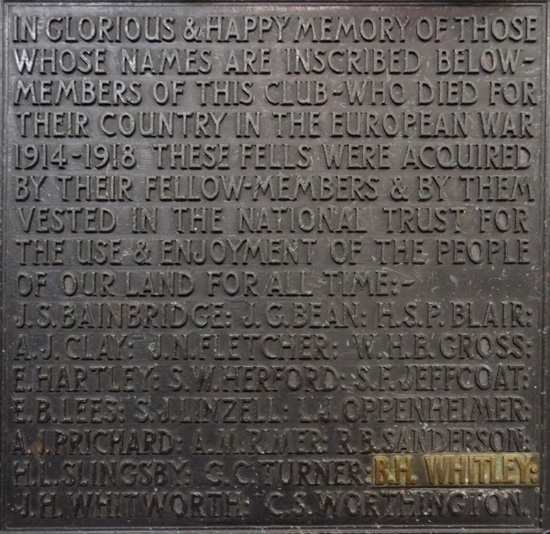 Windermere
Birthplace of British naval and civil marine aeroplanes