Captain Edward William Wakefield MA (1862 – 1941)
Captain Edward Wakefield was one of Britain's most important aviation pioneers. It was his aeroplane, Waterbird, which on 25 November 1911 made the first successful flight from water in the UK at Windermere.
Born into a prosperous Lakeland family, Edward Wakefield trained as a banker and barrister (1893). But from an early age his restless disposition, combined with a strong sense of religious duty and Victorian patriotism, drove him to wider pastures. He was active in charity work, mainly with children in need, in London in the 1890s and again in the early 1900s. On the outbreak of the Boer War in 1899, he joined the Carlisle-based Border Regiment and saw two years active service in South Africa.
Attending a flying meeting at Blackpool in 1909, he was told that casualties were inevitable when flying from land. He decided that flying from water would be much safer. Helped by considerable wealth and self-confidence, he set out to prove it. He built hangars at Windermere. He bought and tested one of the earliest Avro aeroplanes, which he named 'Waterbird', for experimentation and adaption and patented his float and method of attachment. National publicity followed. On 1 January 1912, he formed the Lakes Flying Company. A strong protest campaign led by Beatrix Potter and Canon Rawnsley was foiled with Winston Churchill's help. Soon his Hill of Oaks base became a centre for Admiralty testing and, by WW1, for the large-scale training of naval pilots whose graduates fought, and all too often died, on the Western and Mediterranean Fronts.
In 1914, despite advancing age (he was then 52) Wakefield re-joined the army, spent three years training troops, commanded a Labour Battalion on the Western Front, served in Italy and ended the War as Chief Church Army Commissioner for France and Belgium. His health badly damaged, he spent the rest of his life in Kendal, active as Mayor, Chair of Magistrates, local landowner and supporter of good causes. He died in 1941. His wife Mary pre-deceased him in 1921. He had one child, Marion, who many years later fondly reminisced of helping sew fabric for Waterbird's wings and foiling pre-WW1 German spies. His grandson, James Gordon (1913-1998), was also a distinguished figure in aviation history – pioneering air-sea rescue dinghies and revolutionary wood epoxy construction techniques for Mosquito aircraft and Horsa gliders in WW2.
John Gordon
Great Grandson
QUOTES
'At about 8 p.m. under young Mr. Raynham's skilful piloting a splendid flight took Brooklands by storm. Rising slowly and turning at first in wide sweeps she soon gathered speed and height and sailed for some miles (4 at least) over houses and trees, and then landed in front of her hangar as gently as a thistledown. Thus she passed her contract test with flying colours.' – Letter to his wife, 1 July 1911.
 'I come of many generations of Westmorland men, and I yield to no one in love for the scenery, and loyalty to the interests of my country. But many, who along with me learnt during the war in South Africa, the value of scouting, believe that scouting by hydro-aeroplane will shortly become a necessity for the safety of this island – the island which contains the scenes and faces we love. England is far too behind other powers in aircraft and in flying men for both Army and Navy; and although I can now offer a successful British hydro-aeroplane, to adapt it for use on the sea, for carrying an observer, a wireless installation, &c., many further experiments will be necessary.' – Letter to The Times, 11 January 1912.
'Mr Wakefield himself takes up the cudgels on his own behalf in a letter which he has sent to us, and which was published in The Times on the 11th inst. In it he answers Canon Rawnsley's points seriatim, and which we think makes out a good case for himself.' – Editorial Comment, Flight magazine, 20 January 1912.
'The loud even hum of the seven cylinders commences and we are off, at first quite slowly, then with rapidly increasing speed we skim the surface of the lake. The sweet air begins to sing in the wires. All at once we are rising, there is no jerk, one only knows one is flying by the smoothness and ease of the motion; it seems very rapid, the shining blue and white ripples being past so fast. 35, 40 m.p.h. gradually we get higher, the ripples become smaller, indistinct and then fade from sight, the view opens out as it does when one ascends a steep hill, only so much more easily, so much more wonderfully. There is a perfect blaze of spring colouring underneath and around. As we rise higher and higher the fields look like bright and green squares of a chess board, but not so regular. The woods are a medley of every glorious shade of green one can imagine. The lake becomes a pool of liquid silver, the beasts grazing in the sunshine pause a moment to look around and then go on feeding, but the swans and other birds seem restless and a little puzzled. The fells look nearer and clearer, but strangely flat. The motion can only be compared to sailing over a gentle swell; it is exhilarating, glorious, a sport and a pastime for kings. We take a little circle and then turn and come down just as gently as we rose. I hear the sound of water under the float, but am not conscious of any jerk or check to tell me we have left the soft arms of the kindly air and come to rest supported on the laughing waters.' – Article in Flight magazine, 11 May 1912.
'Every boy worth his salt builds castles in the air. Only sometimes his wings (opportunities) have not enough area to carry the load. And sometimes his engine (force of character) is a bit short of power. So grey hairs come, and the castles fade. But I was lucky. My castle was to fly, and it materialised after five and thirty years. It is however not yet four years since I decided to concentrate on waterplanes which at that date were ridiculed as impossible just as a year or two before then the idea of any machine really flying was laughed out of court.' – Article by Wakefield in The Aeroplane magazine, 10 April 1913.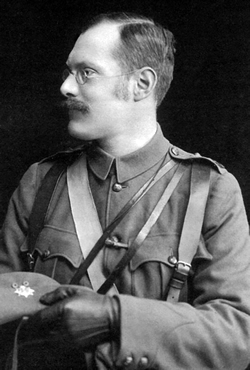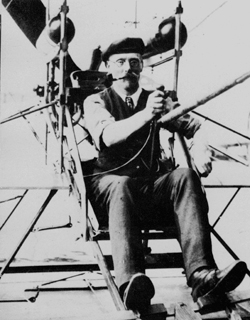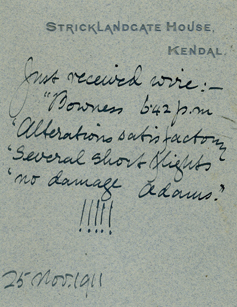 Windermere: birthplace of British naval and civil marine aeroplanes