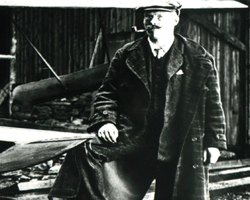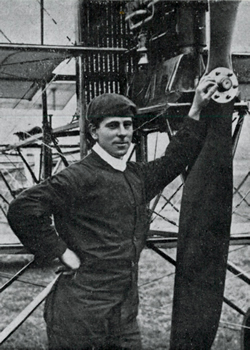 AVRO
'Alliott Verdon Roe attended one of the first meetings at the new Motor Race Track, Brooklands on 22 July 1907. In the course of this visit he looked closely at the farmland area in the middle of the Motor Course and remarked to his brother Humphrey that it might be an ideal place for test-flying aircraft because, early in the mornings, it was reported to enjoy absolutely still air.' – Sir Peter Masefield.
THE SPIRIT OF BROOKLANDS
In a booklet The Brooklands Story A.V.Roe & Company 1910/1911, Howard Pixton wrote 'I found Brooklands comprised about two dozen wooden hangars, with earth floors and wood and canvas shutters instead of  doors – all very primitive. At one end of the ground was the only too-well-known sewage farm, into which all the best aviators made a habit of landing. …  We were a mixed crowd, some had more money than they could ever spend, some were as poor as I was, some had their own machines, others were merely mechanics hoping to get a chance on their employer's aeroplanes. It made no difference. In flying there were no class distinctions, we were all friends, all ready to help one another, all bound together by the same enthusiasm. Never since those days have I encountered such a wonderful spirit.'
The Blue Bird café, converted from No. 8 hangar, was declared by Pixton to be 'the highlight of the place'. It was opened by Eardley Billing, brother of Pemberton Billing who later founded the Supermarine Company at Southampton. 'Here we all assembled to drink tea, discuss flying, talk about the latest crash and new ideas, and gradually fewer primus stoves and old buckets holding coke fires were found in the hangars'.
Gertrude Bacon would spend Saturday or Sunday afternoons at Brooklands and described life at the café: 'All fresh from the thrill of their early flights, with wind-blown locks and oil-splashed garments, those keen-eyed, laughing boys would troop in, put pennies in the jingling music box, run the little tables together to make one long board, and sit down to many cups of tea and the liveliest, wittiest chatter and banter in which the effervescent spirits of the flying temperament could find vent. It was the sort of scene that Rudyard Kipling delights in and only he can depict.' In 1910 she made her second passenger flight, from Brooklands with Graham Gilmour in The Big Bat monoplane.
USE OF THE VERB TO 'TAXI'

'Graham Gilmour led a party of Brooklands men dressed in mechanics' overalls into the Coventry Restaurant in Leicester Square, London, and caused a bit of a flutter among the smart patrons. … Gilmour brought a new word into Brooklands, a word derived from London's new motor vehicle, the taxi-meter-motor cabriolets. Instead of rolling out a machine, we now taxied along the ground.' – Howard Pixton: Test Pilot & Pioneer Aviator by Stella Pixton. 'It is interesting here to note that the much reprobated verb to "taxi" has official sanction. It is a good little word, in that it is unlike any other and expresses a distinct idea, namely, that of running an aeroplane along the ground under its own power.' – The Aeroplane magazine, 7 November 1912.
Gilmour had his aviator's certificate suspended by the Royal Aero Club for low flying over Henley Regatta, contrary to a Resolution of 9 January 1912 prohibiting flights over the River Thames. His case was taken to the Court of Appeal and, upon losing, he put a black crepe wreath over his hangar at Brooklands.

CLIFFORD FLEMING WILLIAMS

Fleming Williams was a pioneer of making drawings from the air so as to prove the use of aeroplanes for military observation purposes. On 1 April 1911, he made the above drawing of Brooklands from a Bristol biplane.
A.V. Roe & Company ('Avro') was commissioned by Edward Wakefield to build an Avro Curtiss-type aeroplane, which, when later converted to a hydro-aeroplane at Windermere, became known as Waterbird.
Test-flying was carried out at Brooklands by Francis Conway Jenkins, Louis Noel, Ronald Kemp and Frederick Raynham. In a letter of 1 July 1911, Wakefield wrote 'At about 8 p.m. under young Mr. Raynham's skilful piloting a splendid flight took Brooklands by storm. Rising slowly and turning at first in wide sweeps she soon gathered speed and height and sailed for some miles (4 at least) over houses and trees, and then landed in front of her hangar as gently as a thistledown. Thus she passed her contract test with flying colours.'
Testing and delivery of the Avro Curtiss-type: extracts from Flight magazine, 1911:-
On Thursday [25 May] a new machine arrived from Messrs. A.V. Roe and Co.'s Manchester works, constructed to the order of Mr. Wakefield. It is of the Curtiss type, and designed to start from water as well as on land, and is fitted with a 50-h.p. Gnome. The first trials, which will not be made with the floats, only with the wheels, should take place in about ten days. The first tests on water are to be made in the north of England. – 27 May
Louis Noel made some short flights on the Avro-Curtiss. Stanley Adams secured his certificate [Number 97] in easy style on the Avro. Some interest was caused on Tuesday [27 June] when the Avro-Curtiss, which has been built by Messrs. A. V. Roe and Co., was brought out. Mr. Ronald Kemp at his first attempt flew very well and came back in perfect style. Louis Noel made one or two rough landings, the onlookers being surprised to see the rigid wheel-base stand it so well. This machine, as well as an ordinary Avro biplane, is to be fitted with a float and tried in the North. – 1 July
The chief item of news is that the Avro biplane of the Curtiss type has been doing very well in the hands of Mr. Raynham, several circuits of the ground being made at a height of 60 to 100 feet. It will shortly be fitted with hydroplanes for experimenting over water. – 8 July
Mr. A. V. Roe has delivered the Avro ['D'] biplane ordered by Commander Schwann, at Barrow-in-Furness. The Roe-Curtiss biplane has gone to Mr. Wakefield, at Windermere. – 15 July
Wings Over Windermere
Edward Wakefield described flight from water as 'Something that beckoned …'