John George Aulsebrook Kitchen (1869 – 1940)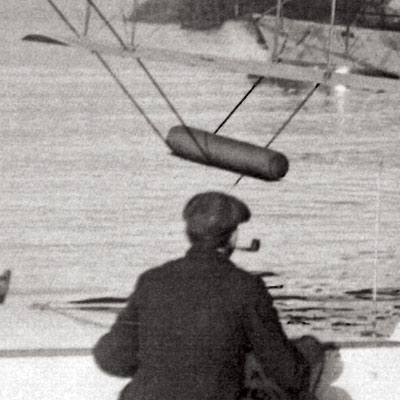 John Kitchen (nicknamed Jack) was a remarkable engineer who lodged 175 Provisional Patent Applications, of which 118 were carried through to completion. He lived at Bowness-on-Windermere during 1897-1903 and 1921-1940.
Work with early wireless was a feature at Windermere. Isaac Storey and Kitchen were the first to steer a boat by way of remote control, that is steam launch Bat in 1904. Kitchen offered the Admiralty a steerable radio-controlled torpedo. Edward Wakefield believed that scouting by hydro-aeroplane would become a necessity for national safety and that further experimentation was necessary for an observer and a wireless installation. On 19 July 1912, an Admiralty representative came to the lake to observe a new method of transmitting wireless messages from air, in Waterhen, to ground.
Kitchen collaborated with Storey in 1910 to build an annular-winged aeroplane at Middleton Sands, Heysham, powered by a 50hp Gnome like Waterbird – it is Kitchen watching Waterbird in the photo opposite.
In 1911, he patented a pair of wheel-shaped floats with rubber rims attached to a transverse leaf-sprung undercarriage. When alighting on water, the watertight disc wheels would be in the horizontal position, but by operating 2 cranked levers, a seaplane would be transformed into a landplane by moving the discs through 90 degrees into the vertical position. He applied with Storey for UK Patent No. 3,249 on 7 February 1914 for a reversing rudder which was accepted on 4 February 1915; such that reversing motors or reversing gears could be dispensed with, and, in some cases, also an ordinary rudder. Most of the experimental work was carried out at the boatyards of Borwick & Sons. It comprised 2 rudders, port and starboard, each of which was a half-cylinder. The halves of the rudder could be partially rotated, either together or independently, by means of concentric shafts. The unidirectional propeller rotated within the rudders, thus containing the slipstream. So, boats could be brought to a sudden stop or have extreme manoeuvrability.
For example, a reversing rudder was initially fitted in the 1920s to motor vessel Canfly at Windermere, which was built for a 1917 Rolls-Royce Hawk Mk. 1 engine from Royal Naval Air Service airship Submarine Scout Twin S.S.T.3 purchased by Major Harold Pattinson (left in this photo). The British, American, Australian and Canadian Navies all used the Kitchen Rudder.
On 27 March 1918, Kitchen applied for UK Patent No. 124,572, which was accepted on 27 March 1919, to cover an extension to aircraft of the protection of his patent for the reversing rudder. Rudders in pairs, in addition to ordinary rudder or rudders, would be arranged at the tail of an aircraft, so as to 'facilitate landing in confined areas, and quick manoeuvring, and to give the bomb droppers and gunners of fast aircraft a relatively slower moving mark, and thereby increase the efficiency of hits'. This principle was adopted to provide reverse thrust on jet engines when landing.
Kitchen was a founder of the Windermere Motor Boat Club in 1925.
– Kitchen was awarded a Bronze Medal by the Royal Humane Society on 8 March 1907, having marked out an area of the frozen River Lune which was unsafe and forewarned a skater.
Wings Over Windermere
Edward Wakefield described flight from water as 'Something that beckoned …'