Gertrude Bacon (1874 – 1949): Quotes
Amongst Gertrude Bacon's many aviation achievements were the first woman to fly in an airship, at Shrewsbury in August 1904 in Stanley Spencer's 'Airship No. 3'; the first Englishwoman to fly as a passenger in an aeroplane, at Rheims on 29 August 1909 in Roger Sommer's Farman; the first woman to fly as a passenger in a hydro-aeroplane, at Windermere on 15 July 1912 in the Lakes Flying Company's 'Waterhen', and the first woman to fly as a passenger in a hydro-monoplane, at Windermere on 16 July 1912 in the Admiralty's Deperdussin – International Women in Science by Catharine M C Haines
Writing Edward Wakefield beforehand:
'Having tried most means of aerial locomotion it seems my clear duty to sample a hydro-aeroplane – and I am prepared to come at any time, and pay any fee you mention for the great privilege – if only it might be accorded me.'
Flying in Waterhen around Windermere: 
'In forty-two minutes we circled the entire lake, flying conscientiously over every nook and bay. Around us, sleeping in blue summer haze, lay the mountains – Wetherlam, Langdale Pikes, Crinkle Crags, Helvellyn, every name a poem. I was sad when the circuit was complete, and Hill of Oaks once more beneath.' She took photographs during the flight.
Flying in the seventy miles an hour Deperdussin at Windermere: (see image)
'Would you like, said Mr. Wakefield to me, would you like to be the first woman to fly in a hydro-monoplane? Would I not! The eyes seemed blown from my head and the breath from my nostrils. It is literal fact that I discovered myself, unconsciously, holding on to my nose, so convinced was my instinct that it also would be blown away from me!'
Flying over Windermere: (see image)
'To fly over water is certainly to taste to the full the joy of flight, and when the water is Windermere and the scenery the pick of English Lakeland, which is to many a traveller the pick of the whole world, in its soft intimate loveliness, the result is something not lightly forgotten.'

Visiting Windermere, and A. V. Roe & Co. at Brownsfield Mills, Manchester where Waterbird was built:
'I visited the aerodromes and aeroplane works that by then were springing up in all directions. One of the earliest of the latter I found in a mill outside Manchester, where half the building was devoted to the manufacture of men's braces, and the other to 'Avroplanes'. Of the former the most romantic example was undoubtedly Windermere.'

Writing Edward Wakefield afterwards:
'You were good indeed to me, and gave me one (or should I say two) of the very rarest treats of my life. I daresay you saw that the 'Mirror' had reference and a picture. I should be proud indeed – for I also am an enthusiast – and keen beyond measure on the progress of the work to which you have made such magnificent contribution. Again a thousand thanks for your goodness to me.'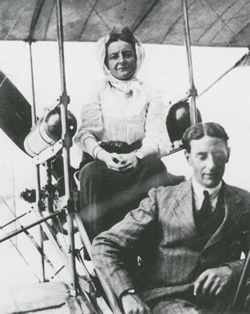 Windermere: birthplace of British naval and civil marine aeroplanes