Waterbird will be on static display at Brockhole, with 2 Husky seaplanes giving a flying display.
Following the historic first public flights of Waterbird last September, the team are delighted to announce another opportunity for you to see this award-winning replica seaplane take to the air.
The second round of flying demonstrations will take place on Windermere, Waterbird's original home, on Thursday 11th and Friday 12th May from 7:00pm.
Spectators will also enjoy a flying demonstration by a second, more modern seaplane, the Aviat Husky, showing the long legacy that Waterbird inspired.
This demonstration will take place further up the lake than the first flights, with viewing points at Brockhole on Windermere, framing the Waterbird against the magnificent Langdale Pikes.
If you'd like to join us and share this amazing aviation experience, here is everything you need to know:
What is Waterbird?
Waterbird is the only replica seaplane of its era anywhere in the world. Apart from the modern engine, it faithfully recreates the detail of the original Waterbird from 1911, when it was the first seaplane to successfully fly in the UK. It was commissioned by Edward Wakefield from A. V. Roe & Co ('Avro') as a landplane and converted to a seaplane at Windermere, where the pilot was Herbert Stanley Adams.
Why is Waterbird significant?
Waterbird is one of a kind. The oldest original seaplanes still flying are a 1929 Hamilton Metalplane H-47 floatplane in the USA and a 1935 Caproni Ca.100 floatplane in Italy. Also, there is a 1930 Sikorsky S-39 restoration in the USA. There is no other airworthy original, restoration or replica seaplane anywhere in the world that dates from within the era of 25 years from 1911.
When is Waterbird flying?
The flight window opens at 7:00pm on Thursday 11th and Friday 12th May. Waterbird is the only seaplane to have flown from Windermere since 1994, so it's a sight not to be missed.
What can I expect?
As with previous flights, the Waterbird demonstrations will be brief but breath-taking. Please remember that this is a delicate, historic aircraft, and that this is a demonstration of its remarkable capabilities, not an aerobatic flying display. During each sequence, Waterbird will take off from the water, fly at up to 100 feet in a straight line along the lake, then land on the water, demonstrating the remarkable capabilities of this early aeroplane.
Information for Spectators
---
Where are the best vantage points?
For these second demonstration flights, there will be viewing available from the grounds and lakeside of Brockhole.
What facilities will be available?
The following facilities at Brockhole will be open from 5:30pm – 8:30pm: Lakeshore Cafe, Vintage Fish and Chips Van and On-site Toilets.
A 10% discount on tea/coffee will be given upon production of a valid bus or boat ticket for that day.
There will be no access to the main House after 5:30pm.
There is parking at £3 for up to 2 hours, £4.20 for up to 3 hours, £5.40 for up to 4 hours or £6.60 for up to 5 hours. Car parking charges do not apply after 6:00pm. Cars are parked at the owner's own risk. Brockhole offers charging for electric vehicles, at a cost of £1 per 30 minutes.
Please note that the car park gates will be locked at 9:00pm.
The spectator area is shown on the diagram below.
How to get there
By Train or Bus:
Brockhole is just two miles from Windermere Station, where bus connections are available. Bus services 555 and 599 stop outside the Brockhole gates – a single journey is capped at £2.
By Boat:
Windermere Lake Cruises stop off at Brockhole pier, with the latest arrival 6:15pm from Bowness. Please be aware that you will need to arrange alternative return travel.
By Car:
Brockhole lies on the A591, midway between Windermere to the south and Ambleside to the north.
Travelling from the south, leave the M6 at Junction 36 and follow signs for Windermere. From the north, leave the M6 at Junction 37.
Advice for Brockhole Spectators
DON'Ts:
BBQ's / fires / cookers
Amplified music
Drones
Cycle on the grounds
Use of the boats / kayaks / inflatables.
DO's:
Arrive by Stagecoach bus or Windermere Lake Cruises' launch, to reduce vehicle traffic
If by car, arrive early since parking spaces are not guaranteed
Ask Brockhole staff stationed around the site if you have any questions
Stay on the paths
Keep your dog on a short lead and pick up afterwards
Take your rubbish home or use a bin.
Information for Lake Users
---
If you wish to transit the area as a lake user after 6:30pm, please make contact with one of the marshal boats which will be flying a blue flag, or with any authorised officer, and use the transit corridor on the eastern side of the lake as shown on the Map above?
Cancellation
While we will make every effort to conduct the Waterbird demonstration flights as scheduled, please understand that this is a delicate aeroplane. For example, if there is a significant wind, or the wind is westerly or easterly, this will prevent the aeroplane operating safely and we will have to delay or cancel for that day.
Please check this website before you travel for the latest flight updates.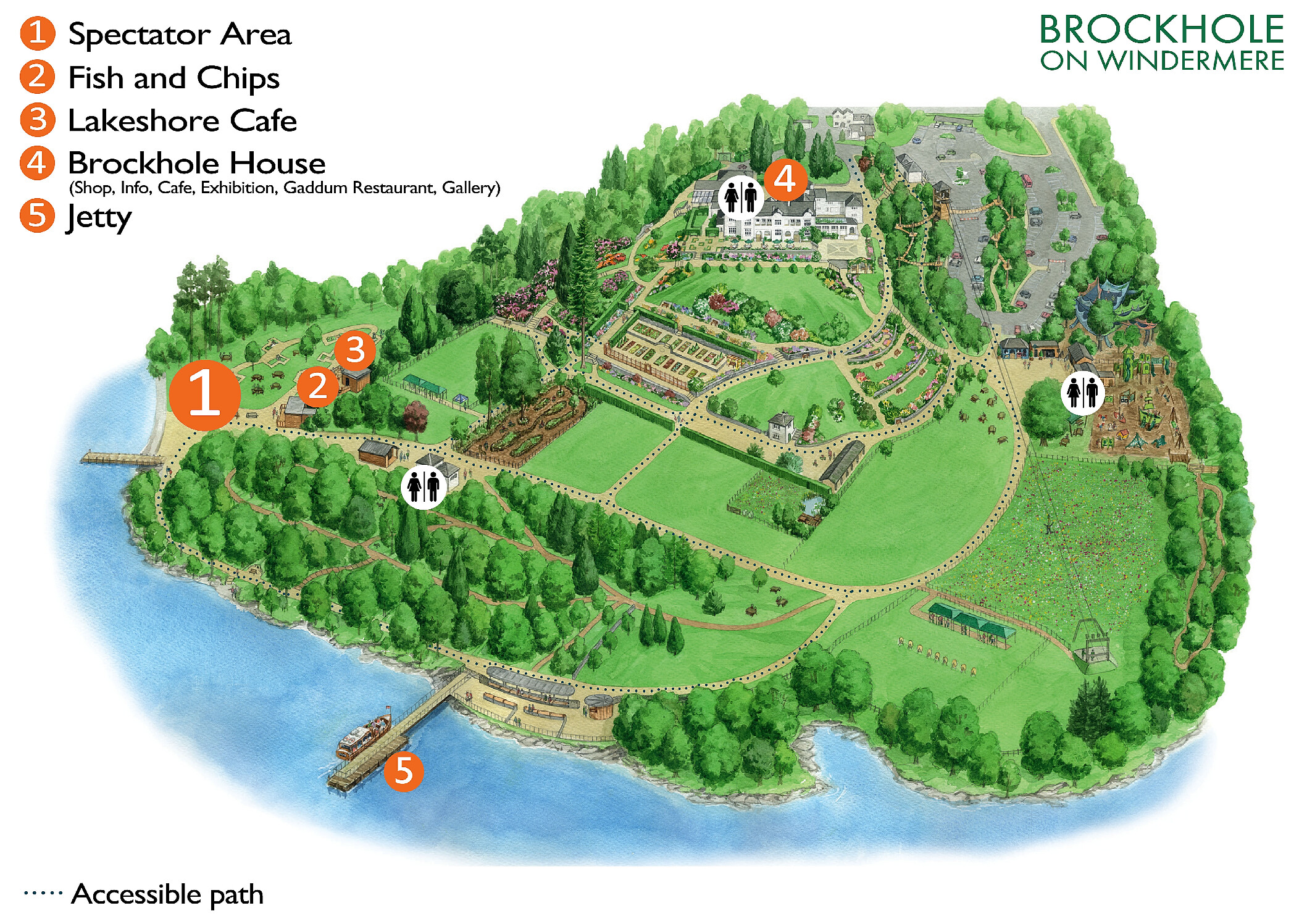 Wings Over Windermere
Edward Wakefield described flight from water as 'Something that beckoned …'